​​​​
Schools ArenA 2024

The data for Schools ArenA 2022 at the Kromhouthallen in Amsterdam-Noord are available. During Schools ArenA, approximately 8,000 students from grade 8 (and 7) will explore all secondary schools in Amsterdam and Weesp. This is scheduled for:

Friday, November 17th, from 4:00 PM to 8:30 PM
Saturday, November 18th, from 9:00 AM to 6:00 PM
For more information and registration, visit: https://schoolkeuze020.nl/scholenarena/

--------------------------------------------------------------------
Open Days: 2024 Dates Announced
The Mundus College will once again be organizing Open Days in 2024. During the Open Days, you are warmly invited to come and take a look at our school. You will receive a guided tour, have the opportunity to participate in sample lessons, and engage in conversations with our students and teachers. This will allow you to gain a good understanding of what our school has to offer you.
The Open Days in 2024 are on:
Wednesday, January 31st, from 4:00 PM to 7:00 PM
Tuesday, February 27th, from 4:00 PM to 7:00 PM
Thursday, March 14th, from 4:00 PM to 7:00 PM
--------------------------------------------------------------------
Mundus College receives ESF Subsidy for Employment Transition
The Minister for Poverty Policy, Participation, and Pensions has, in the school year 2022-2023, also made ESF (European Social Fund) subsidies available to the Municipality of Amsterdam for the benefit of PrO/vso (Practical Education and Preparatory Secondary Vocational Education).
Mundus College is investing the ESF funds in employment transition and sustainable job placement for its own students. The ESF funds are utilized to continually enhance the connection with the regional job market through up-to-date practical subjects, industry courses, and internships. The goal is to increase the employment opportunities for our students.
European Social Fund
The ESF is the main European instrument to support employment, help people find work, and ensure fair employment opportunities for all EU citizens.
For the Netherlands, approximately 400 million ESF subsidies have been reserved for the 2021-2027 period (ESF+ program). The subsidy is distributed among the 35 labor market regions in the Netherlands. The government aims to maximize the participation of people in society, including in the labor market. However, young people from vso and PrO encounter various obstacles in securing employment. An integrated approach and a smooth transition from school to work are crucial for these young people. They require additional support to secure and maintain a place in the job market. The ESF subsidy serves as a financial incentive to further address these challenges.

------------------------------------------------------------------------
Mundus College Coffee Moment for Parents
Click on the image below for more information and to scan the QR code: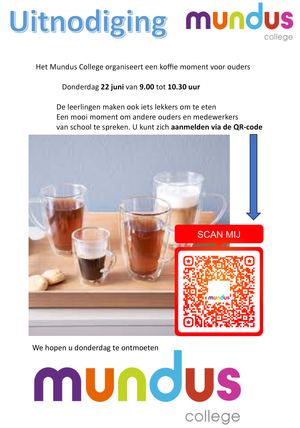 ---------------------------------------------------------------------
Mundus College Wins Ajax Foundation Project "S'Cool"!
Several of our classes participated in the Ajax Challenge, a lesson and exercise program based on the core values of Ajax. During this program, which took place both in school and in the ArenA, young people were inspired to push themselves to the maximum and develop their talents. In the educational program of the Ajax Foundation, Ajax was presented as a powerful metaphor. Students from different Amsterdam schools gained insight into the core values of Ajax. Ajax introduced the students to "Our recipe for winning."Once the students understood how the winning recipe works at Ajax, they were asked to formulate their own school core values. The young people set a goal on the horizon: What do you want to achieve? What do you need for it? Where are you now? What is the first step? How do you want to achieve it, and does it align with who you want to be? Does it match your core values, your recipe for winning?
Under the guidance of Mrs. Soukaina, the students of class 4D1 ultimately emerged as the most successful! They used our Mundus core values GRAS as their starting point and added their own interpretation.
On Friday, March 17th, a delegation from Ajax, including former international player Daphne Koster and stadium announcer Rob van Rossum, visited to declare our students as the winners!
It's clear that all the staff members are incredibly proud!
-------------------------------------------------------------------------
Action for Giro 555
On Thursday, March 16th, our students prepared and sold Turkish pizzas in the cafeteria to support Giro 555. It was very delicious, and, of course, everything sold out! A successful fundraising action!